The first two volumes will be released on March 27, 2015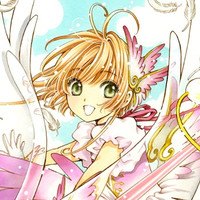 Kodansha launched Nakayoshi, the oldest still-going shoujo manga magazine in December 1954. In commemoration of its 60th anniversary, the publisher next year will start releasing 9-volume new editions of CLAMP's Cardcaptor Sakura manga, which was serialized in the magazine from 1996 to 2000. The manga was originally compiled in 12 tankobon volumes, and with the great help of the well-received anime series animated by Madhouse, the total print reached 15 million in Japan.
CLAMP draws all the cover illustrations for the new nine volumes. All the volumes will come with their digital editions and the latest arts not included in the paper editions. The first two volumes will be released simultaneously on March 27, 2015, and the cover illustration for the first volume is now online.
Also on January 29, 2015, reprint editions of "Clow Card set" (originally published in 1999) and "Clow Card
fortune book" (in 2000), are scheduled to be released. For the fans who can't wait, the two books are
now presold at the ongoing "Cardcaptor Sakura Original Art Exhibition" at Tokyo Soramachi.
The 1st volume cover illustration
"Clow Card fortune book" cover
"Cardcaptor Sakura Original Art Exhibition" poster
【展示情報①】展示会場内の写真を公開☆ いよいよ開催まで残り1日!展示会場内は写真撮影不可ですが、皆様をお迎えします入口の看板は撮影可能となっております☆その他の写真は公式HPをチェック♪ http://t.co/N3g9Bjo7v8 pic.twitter.com/XvPiT6umsa

— 『カードキャプターさくら』原画展 (@sakura_gengaten) December 26, 2014
Source: press release
© CLAMP, ShigatsuTsuitachi CO.,LTD./Kodansha