The new film featuring the 40 PreCure girls hits theaters on march 14, 2015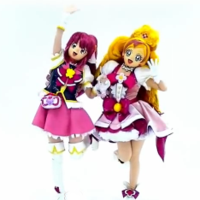 Following the 1st trailer and poster visual yesterday, Toei has also posted a dance lecture video of "Ima Koko Kara" (Now From Here), the theme song for the upcoming new PreCure All Stars film, PreCure All Stars: Haru no Carnival (Spring Carnival), performed by Cure Lovely (HappinessCharge PreCure!) and one of the newest PreCure girls, Cure Flora (Go! Princess PreCure). The song is written by Kumiko Aoki and composed by Hideaki Takatori, two veterans who have worked for the PreCure series for more than 10 years. The official site of the film will announce the singers soon.
The purpose of this video is that Toei is now offering an opportunity to kids to join the film with the PreCure girls. There will be five auditions for kids under 12 (sorry, adult fans) in Tokyo, Osaka, Nagoya, Fukuoka, and Sapporo in the next February. If they dance the song well, they will be promised to be featured in the ending of the film.
The highly anticipated film PreCure All Stars: Haru no Carnival is scheduled to be released in Japan
on March 14, 2015.
"Ima Koko Kara" dance lecture video
"PreCure All Stars: Haru no Carnival" trailer featuring the song
New poster visual
Source: "PreCure All Stars: Haru no Carnival" official site
© 2015 Movie PreCure All Stars SC Production Committee