Featuring the world of the anime voice acting industry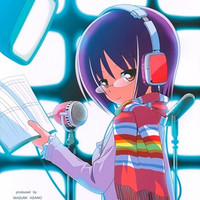 It was announced at Comiket 87 today on December 30 that a TV anime adaptation of Sore ga Seiyuu! (literally means That is Voice Actors), a collaborative four-panel doujin manga work by anime voice actress Masumi Asano and author of Hayate no Gotoku/Hayate the combat butler, Kenjiro Hata, is in the works. The manga has been published as printed doujinshi and weekly web series by their doujin circle Hajimemashite. since December 2011. The story centers on three young anime voice actresses: Futaba Ichinose, Ichigo Moesaki, Rin Kohana, telling their everyday struggle in the anime voice acting industry.
According to the latest interview with Asano and Hata on Excite Review, the anime project launched about one year ago, and since it is a doujin work, they have received no support from any publishers. So they can/have to make every decision on the project by themselves. More details of the project including
the staff, production company and premiere schedule will be announced shortly.
The announcement illustration
Ver.001 (December 2011) and Ver. 002 (August 2012)
Soushuhen (Compilation) vol.1 (August 2014) and vol.2 (December 2014)
via: Otakuma Keizai Shimbun, Excite Review