Acclaimed animator Yoshikazu Yasuhiko's directorial debut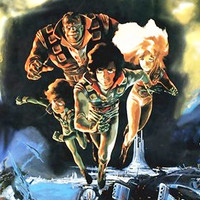 The first anime adaptation of Haruka Takachiho's science fiction light novel series Crusher Joe was produced as a two-hour feature film and directed by Yoshikazu Yasuhiko, the original illustrator for the novels, in March 1983. While no accurate box office result is available, it has been considered as the most commercially successful film by Yasuhiko, who later directed two more anime features, Arion (1986) and The Venus Wars (1986), both were based on his own original manga.
After 32 years since its theatrical release in Japan, the theater pamphlet for the film will be re-released in digital format on Japanese digital bookstore BookLive! from January 18. The edition will be also available one day before the release at [email protected] Shinjuku where the one-day only screening event for the film will be held. The tickets for the event are already sold out.
The cover of the pamplet
By the way, I still own the 36-page theater pamphlet which I purchased when the film was released in Japan.
The price was 500 yen at the time.
via: IT Media
© Takachiho&Studio Nue, Sunrise