ALDNOAH.ZERO Season Two starts Jan/10, KanColle TBA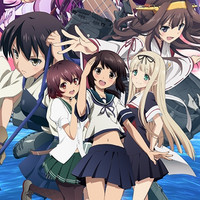 Today's Crunchyroll panel at IKKiCON brought with it a pair of new announcements: Season Two of ALDNOAH.ZERO and KanColle are set to begin streaming soon!
Based on the wildly popular online game of the same name, KanColle is set in a world where humanity has lost control of the oceans to the "deep sea fleet." The only hope to counter this threat are the Kan-musume, a group of girls who possess the spirit of Japanese World War II warships. The story revolves around Fubuki, a special class destroyer who comes to the Chinjufu base to train with other Kan-musume. Watch as their stories unfold!
Sumire Uesaka (Gonna be the Twin-Tail!!) will be voicing Fubuki opposite Saki Fujita (Wagnaria!!) and Yuka Iguchi (A Certain Magical Index) as Akagi and Kaga respectively.
Broadcast times and territories for KanColle will be announced soon!
Meanwhile, ALDNOAH.ZERO Season 2 will be coming to Crunchyroll starting on Saturday January 10th, at 9:30am Pacific Time for users in the following territories: North America, Central and South America, Australia, New Zealand, UK, Ireland, Europe excluding German-speaking territories.
Returning for a second season after an epic cliffhanger from the first season, ALDNOAH.ZERO continues the story of the struggle between the people of Earth and Mars as they wage war against each other. Directed by Ei Aoki (Fate/Zero, The Garden of Sinners) and featuring character designs by Takako Shimura (Wandering Son), ALDNOAH.ZEROfeatures inhabitants of Earth and Mars waging in an interplanetary war. The story touches upon the effects wars have on a country's government and its people.


Popular voice actor Kensho Ono, Tetsuya Kuroko from Kuroko's Basketball, stars as Slaine Troyard, and Sora Amamiya, Liliana from Log Horizon, as Asseylum Vers Allusia. The opening will be "&Z" by Hiroyuki Sawano "nZK": mizuki, and the ending song has Eir Aoi performing "GENESIS."
------
Patrick Macias is editor in chief of Crunchyroll News and Otaku USA magazine. He is also the author of Paranoia Girls webcomic.