Starts January 11th at 10:35 AM Pacific Time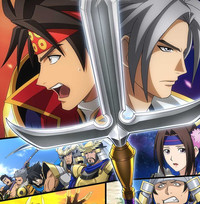 A day of new announcements at Crunchyroll comes to a close with the clashing of swords as Samurai Warriors, based on the Sengoku Muso game series, is set to broadcast every Sunday starting January 11th, starting at 10:35 AM Pacific Time for premium members and will be available one week later for free members. More information can be found on www.crunchyroll.com/samurai-warriors.
Story and background
Samurai Warriors focuses on the Sanada brothers during the Sengoku era of Japan. In late 16th century, the era of civil war that tore Japan over two centuries is nearing its end and the regional warlords who survived the bloodsheds are ready for a final showdown. In the battlefield where your best ally turns out to be your worst enemy, only the shrewdest can come out alive.
Sanada Yukimura and Nobuyuki will be voiced by veterans Takeshi Kusao (Dragon Ball Z as Trunks) and Daisuke Ono (JoJo's Bizarre Adventure: Stardust Crusaders as Jotaro Kujo). KOEI Tecmo Games software development head Hisashi Koinuma is serving as chief production supervisor of the series, while Koujin Ochi (La corda d'oro) is directing.
Samurai Warriors will be available to Crunchyroll's audience worldwide excluding Asia.
------
Patrick Macias is editor in chief of Crunchyroll News and Otaku USA magazine. He is also the author of Paranoia Girls webcomic.