Yumi Kawamura and Lotus Juice are back for anime movie planned for April 4th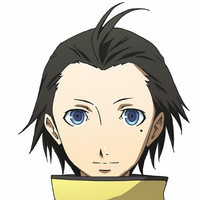 Nailing down November's announcement of a spring 2015 time frame for the third Persona 3 anime movie RPG spin-off, subtitled "Falling Down," a release date of April 4th has now been announced, and Yumi Kawamura and Lotus Juice are back for the theme song "Light in Starless Sky."
Tickets go on sale along with a set that includes the themes to the movies at the Nippon Budokan: Night of the Phantom concert event, scheduled for February 5, 2015 in Chiyoda, which has also teased a reveal of the Persona 5 protagonists.
Keitaro Motonaga (Jormungand) takes over as director for the project which is set to introduce mystery transfer student Ryoji Mochizuki.
【公開日決定】劇場版「ペルソナ3」第3章の公開日が決定!!2015年4月4日(土)=満月に、新宿バルト9・梅田ブルク7ほか全国34館にてロードショー! http://t.co/kDrBLuOzqe #P3_M pic.twitter.com/GQZoTE3YXJ

— 劇場版「ペルソナ3」 (@P3movie) January 5, 2015
【前売り券情報】さらに全国の上映予定劇場にて今週末1/10(土)より特典付き前売券の販売がスタート!第1弾はスペシャルリバーシブルポスター(B2サイズ)に決定! http://t.co/lAMo1fhwOb #P3_M pic.twitter.com/1jkTkHk3mA

— 劇場版「ペルソナ3」 (@P3movie) January 5, 2015
【前売り券情報】今回の特典のポスターですが、表はティザービジュアル、裏は第1章と第2章の原画をコラージュしたデザインのカレンダーになっています! #P3_M pic.twitter.com/3GiWwqYuvu

— 劇場版「ペルソナ3」 (@P3movie) January 5, 2015
【前売券+主題歌CDセット発売決定】そして、第1章&第2章にて好評を博した主題歌CDセットの発売が今回も決定!こちら本日より時価ネットにて予約スタートです! http://t.co/xrb0oxRVbd #P3_M

— 劇場版「ペルソナ3」 (@P3movie) January 5, 2015