The author Morikawa explains, "due to various reasons"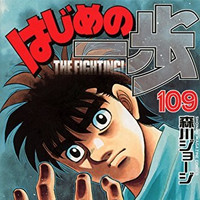 As reported, the first simultaneous digital edition of Kodansha's Weekly Shonen Magazine is released in Japan today on January 7. However, George Morikawa's long-running boxing manga Hajime no Ippo is missing from the lineup. Hajime no Ippo is the only title not included in the digital edition which is sold at the same price with the print edition (260 yen).
On his official Twitter, Morikawa explains that Hajime no Ippo is not included in the digital edition due to "various reasons," and asks the readers to make sure that both the print and digital editions are sold at the same price, though the latter doesn't have his work. Then he promises the serialization of Ippo in the print edition will continue.
In the second tweet, he added, "If the time and circumstance are changed more, there is a possibility that
my mind could be changed, or that I could ask to release it digitally. But I need more negotiations with the
publisher, and I need more study for myself. I do understand that the digital edition is the same Shonen
Magazine. Hope you understand the situation." According to Kodansha, they currently can't tell when they
can add Ippo to the digital edition.
In similar cases, Vagabond by Takehiko Inoue (Slam Dunk) and Billy Bat by Naoki Urasawa (Monster, 20th
Century Boys) have refused to be included in the digital edition of Kodansha's Weekly Morning magazine.
The 1st and latest 109th volume of Hajime no Ippo
via: Netlabo
© George Morikawa, Kodansha