Der Anime zur Light Novel...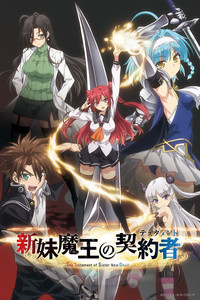 Wir sind noch lange nicht fertig mit den Ankündigungen! Weiter geht es mit The Testament of Sister New Devil im Simulcast!
Der Anime zur Light Novel von Uesu Tetsuto startet am Mittwoch, den 7. Januar um 20:00 Uhr für Premiummitglieder und jede Folge ist dann jeweils eine Woche später für freie Nutzer zugänglich.
Basara Toujo ist ein Highschool Schüler und sein Vater hat vor kurzem wieder geheiratet. Sein Vater verreist daraufhin und lässt Basara mit seinen zwei hübschen Stiefschwestern zurück. Was Basara aber nicht weiß ist, dass seine neuen Geschwister, Mio und Maria in Wirklichkeit der neue Dämonenlord und ein Sukkubus sind?! Nun gefangen in einem Leben aus Knechtschaft, geht Basara versehentlich einen Pakt ein und ist nun der Meister von Mio! Der Spaß fängt erst richtig an, als Basara von einer Ecchi-gefüllten Situation in die Nächste gerät. Dennoch befindet sich Mio nun in Gefahr und wird von Dämonen und Helden verfolgt!
Production IMS übernimmt die Produktion der Light Novel Adaption. Yuichi Nakamura leiht Basara seine Stimme und Mio wird von Ayaka Asai gesprochen.