Starts January 7th, at 10:30 AM Pacific Time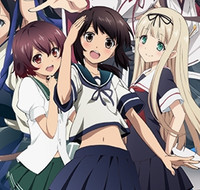 Last weekend at IKKiCON, Crunchyroll announced the acquisition of highly anticipated battleship girl anime KanColle (AKA Kantai Collection). Now, we have full details for the upcoming simulcast, including starting date and regions. So here you go...
KanColle is set to broadcast every Wednesday starting January 7th, at 10:30 AM Pacific Time for premium members and will be available one week later for free members. More information can be found on www.crunchyroll.com/kancolle.
Finally, the hugely popular browser-based game KanColle, short for Kantai Collection, gets an anime adaptation! Set in a world where humanity has lost control of the oceans to the "deep sea fleet," the only hope to counter this threat are the Kanmusu, a group of girls who possess the spirit of Japanese warships. The story revolves around Fubuki, a destroyer who comes to the Chinjufu base to train with other Kanmusu. Watch as their stories unfold!
Sumire Uesaka (Gonna be the Twin-Tail!!) will be voicing Fubuki opposite Saki Fujita (Wagnaria!!) and Yuka Iguchi (A Certain Magical Index) as Akagi and Kaga respectively. AKINO from bless4, also known for singing the popular opening theme song to Genesis of Aquarion, will be performing the opening theme song, "Miiro', and the ending theme "Fubuki" will be performed by Shiena Nishizawa.
KanColle will be available to Crunchyroll's audience in the following territories: United States (and its territories), Canada, Central and South America (including the Caribbean), United Kingdom and Ireland, Europe (excluding German-speaking territories), South Africa, the Middle East and North Africa.
------
Patrick Macias is editor in chief of Crunchyroll News and Otaku USA magazine. He is also the author of Paranoia Girls webcomic.