Starts Saturday, January 10th at 9:00 AM Pacific Time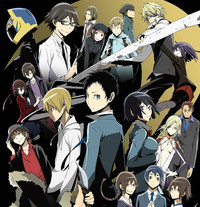 Like a black rider racing out of the shadows, the word is out that Crunchyroll will soon begin streaming DURARARA!! X 2, the follow-up to the hit anime based on the light novel series.
DURARARA!! X 2 is set to broadcast every Saturday starting January 10th at 9:00 AM Pacific Time for premium members and will be available one week later for free members. More information can be found on www.crunchyroll.com/drrr.
Half a year after the turmoil that rocked the entire city of Ikebukuro— Peace has once again returned to the city and people are living each day normally. The high school students enjoy their days of youth as the strongest and most dangerous man of Ikebukuro works diligently. The informant plots a new scheme and the headless rider is pursued by the cops as she rides through the night…But soon this normal will be cut short by the abnormal. Slowly but surely, the unknown will seize the city and face an all new storm.
Miyuki Sawashiro and Toshiyuki Toyonaga both reprise their roles as Celty Sturluson and Mikado Ryugamine, respectively. They are joined by some new cast members, including M.A.O. as Varona, Kappei Yamaguchi as Mizuki Akabayashi, Hiro Shimono as Aoba Kuronuma, and Yuki Ono as Chikage Rokujo. The opening theme song will be "HEADHUNT" by OKAMOTO'S, with the ending "NEVER SAY NEVER" by THREE LIGHTS DOWN KINGS.
DURARARA!! X 2 will be available to Crunchyroll's audience in the following territories: North America, Central America, South America, Ireland, and UK.
------
Patrick Macias is editor in chief of Crunchyroll News and Otaku USA magazine. He is also the author of Paranoia Girls webcomic.