J-drama "Why Can't Seiya Toudoin (Age 16) Get a Girlfriend?" Also Added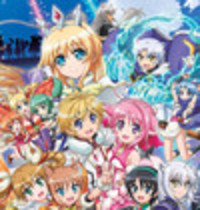 The curtain drops on today's parade of new announcements as Season Three of Dog Days prepares to begin streaming on Crunchyroll.
Dog Days will launch tomorrow, and stream every Saturday at 9:00 AM Pacific Time for premium and will be available one week later for free members and will be available to Crunchyroll members in the following territories: Asia excluding China, Korea, India
Also down the pike today, a new J-drama in the form of the intriguingly titled Why Can't Seiya Toudoin (Age 16) Get a Girlfriend? Airtime and start date will be announced shortly, but don't worry, its coming!
He's super hot! He's got the best grades in the school! His family's rich, and he's great at sports! He's the man who's got it all, Seiya Toudoin! But there is one thing he can't get no matter how hard he tries. Something every teenage boy needs to be truly happy. That's right. He doesn't have a girlfriend. He's the ultimate unfortunate hot boy. Seiya Toudoin is 16 years old, and in this red-hot romantic comedy, his fantasies will get out of control as he goes up against some tough women in his quest to find his first girlfriend!

The popular comic "Why can't Seiya Toudoin (Age 16) get a girlfriend?" is now a live-action drama, starring the hit Nagoya-based hot boy unit BOYS AND MEN. The role of Seiya Toudoin will be played by Yutaka Kobayashi, known nationally for his role as "Masked Rider Baron." Seiya Toudoin ends his exchange program early and comes back to Japan to start a new life, for the sole purpose of finding a girlfriend. Behind his perfect exterior lies the heart of a negative and too-pure 16-year old boy…You can do it, Seiya! A wonderful youth awaits you! This program will bring tears, laughter, and encouragement to anybody who's ever been lost in love!
Why Can't Seiya Toudoin (Age 16) Get a Girlfriend? will be available to Crunchyroll's audience in the following territories: U.S.A., Canada, United Kingdom, Ireland, South Africa, Australia, New Zealand, Denmark, Finland, Netherlands, Norway, Sweden, South America.