The tagline says, "The storm is coming."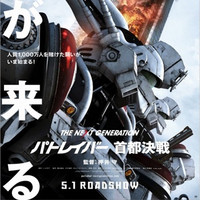 Cinema Today has posted a teaser poster visual for the forthcoming feature film edition of the Mobile Police Patlabor live-action series, titled The Next Generation Patlabor: Shuto Kessen (The Final Battle in the Capital), featuring the two AV-98 Ingram and the burning Metropolitan Government Office building attacked by a stealth helicopter "Gray Ghost." The two taglines say, "The storm is coming." and "The battle for the fate of 10 millon hostage now begins!"
The feature film directed by Mamoru Oshii will be the conclusion of the live-action series started in April 2014 with 12 short episodes. It tells the battle of the members of the 2nd Special Vehicles Section against a terrorist group who takes 10 million people in Tokyo as hostage. The highly expected film will open in Japan on May 1.
Teaser visual
Teaser trailer
via: Cinema Today
© 2014 "THE NEXT GENERATION -PATLABOR-" Production Committee