13-episode box set hits stores March 25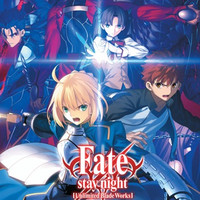 The official twitter for the Fate/stay night project today posted the cover illustration for the upcoming Fate/stay night (Unlimited Blade Works) - Blu-ray Disc Box 1. The illustration is newly drawn by Takashi Tekeuchi, the original character designer of the 2004 game on which the TV anime is based, and the co-founder of TYPE-MOON.
It is also revealed the title of the newly-written bonus novel by the Fate original writer Kinoko Nasu is "Garden of Avalon." The novel will come with illustrations also by Takeuchi. The five-disc set (with one soundtrack CD) will be released simultaneously in Japan and the U.S. on March 25.
BD-BOX Ⅰの武内崇描き下ろし(彩色:こやまひろかず)BOXイラスト、奈須きのこ書き下ろし小説のタイトル「Garden of Avalon」が公開!詳細は http://t.co/ynDB4i1xpx #fate_sn_anime pic.twitter.com/5g0oPvMg3Q

— Fate/stay night (@Fate_SN_Anime) January 10, 2015
At Gamers Akihabara
本日より公開されたBDBOXの新告知ポスターが秋葉原にて掲出されています!まずはAKIHABARAゲーマーズさん!4Fフロアや階段をジャックさせて頂いてます! #fate_sn_anime pic.twitter.com/JZ6HEZWlAZ

— Fate/stay night (@Fate_SN_Anime) January 10, 2015
At Comic Toranoana Akihabara store B
続いては、コミックとらのあな秋葉原店Bさん。こちらは1Fフロアーにて展開頂いてます!早期予約キャンペーン告知のポスターも! #fate_sn_anime pic.twitter.com/I3N9c6juLA

— Fate/stay night (@Fate_SN_Anime) January 10, 2015
At Animate Akihabara store
続いては、アニメイト秋葉原店さん。1Fフロアには早期予約キャンペーン告知がとでかく、7Fはフロアをぐるっとポスターを貼っていただいて特設コーナーも! #fate_sn_anime pic.twitter.com/souAMH5tb7

— Fate/stay night (@Fate_SN_Anime) January 10, 2015
At Akiba☆Sofmap 1st Store
ソフマップさんも開店から展開頂いてます!まずはアキバ☆ソフマップ1号店さん。3Fフロアー上がったところで特設コーナー、そしてフロアにもポスターを掲出頂いたます! #fate_sn_anime pic.twitter.com/0BDp9DURjj

— Fate/stay night (@Fate_SN_Anime) January 10, 2015
At Sofmap Amesment store
最後はソフマップアミューズメント館さん!5Fフロアやエスカレーター壁面に大きく掲出頂いております!秋葉原にお越しの方は是非どちらかのお店に行って見てください! #fate_sn_anime pic.twitter.com/eZfVLFUecg

— Fate/stay night (@Fate_SN_Anime) January 10, 2015
Source: "Fate/stay night" project official Twitter
©TYPE-MOON,ufotable,FSNPC ©TYPE-MOON