52-episode TV anime produced by Sunrise aired in 1994-1995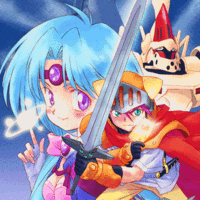 In commemoration of the anime's 20th anniversary, art gallery GoFa in Asagaya Anime Street will be holding a special exhibition for Haou Taikei Ryu Knight, the fantasy robot anime series produced by Sunrise (Gundam, Cowboy Bebop, Code Geass) in the mid-1990s, from January 17 to February 1. Asagaya Anime Street is located under the elevated railway tracks between JR Asagaya and Koenji stations in Tokyo.
A 52-episode TV anime series directed by Toshifumi Kawase (the Eldran trilogy, Beyblade 1st season) was aired in Japan from April 1994 to March 1995, accompanied by 17-episode three-part OVA series Adeu's Legend from 1994 to 1996.
With the full cooperation of the anime character designer Kazuhiro Soeta, the exhibition will be displaying
promotional illustrations at the time, original anime cels, key animations, and rough sketches. In addition,
a newly-drawn artgraph, special collaboration foods and drinks, and limited character goods are also offered.
On January 18 and 31, an autograph session is planned.
Main visual
© Takehiko Ito/Shueisha, Sunrise