Horror News available now, launch dates for "Double Hard" and "Kurokan" TBA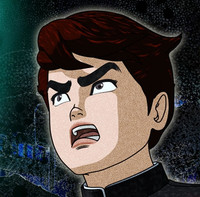 Tomo Toons begin marching into Crunchyroll's catalog today with a trio of titles: Horror News, Double Hard, and Kurokan.
Horror News is available to Premium members now. The show will be available for free members in batches of 6 episodes every week.
Rei Kigata is a boy, a first year middle schooler at Ishido Middle School. He is not a believer of any paranormal phenomena such as existence of ghosts or spirits in any kind, but one day at midnight, while he is in sleep, a mysterious newspaper called "Horror News" is delivered to his room. The newspaper tells a story in which one of his teachers at the school will get killed in a car accident the following morning and Kigata will be a witness of the accident. The story turns into a fact in the following day and since then, the mysterious newspaper is delivered everyday. He realizes he is haunted by this newspaper and that his life span would be shortened in 100 days every time he reads it.
Launch dates for Kurokan and Double Hard will be announced soon, but here's some story info for ya....
To Kirino High, the goal of getting into Koshien Stadium becomes important because the 100th anniversary is around the corner. However, Kurokan's unique way of training has upset the Kirino High Baseball Team Support Association and Alumni Club. Morioka, on the other hand, is a preferrable coach beacuse of his solid style. At the same time, Kurokan's decision on player positions has caused confusions to the team.
Unbeatable Fist-Fighter Daiki Hayami and Professional Knuckler Jin Takayama ram into the incredible fight against Shibaura's craziest bike gang Midnight King and its head Shinjo Brothers!!


Unfair and underhanded Midnight King takes one of Daiki's classmates Mai as its hostage. That makes Daiki and Jin's anger get to the high peak!!