The 1st volume is priced at 756 yen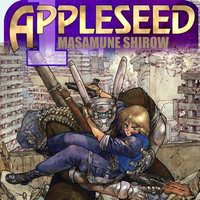 Japanese digital bookstores including Book Walker and Amazon JP today start offering the 191-page first volume of acclaimed manga artist Masamune Shirow's major debut work Applesheed for the first time. The original print edition of the first volume "The Promethean Challenge" was published in Japan on February 5, 1985, from Seishinsha without serialization on magazines beforehand. The price for the digital edition is 756 yen (including tax/about 6.42 US dollars), while that for the print edition was 950 yen.
The digital edition project launched for the 30th anniversary of Shirow's professional manga artist career and the Applesheed series. It is supervised by Shirow himself, and some footnotes which are unnecessary or inappropriate for the digital edition are edited. The second volume "Prometheus Unbound" is scheduled to be released in March.
Volume 1 cover
Ad image for the digital edition project
via: Comic Natalie
(C)SHIROW MASAMUNE