The prequel feature film hits theaters February 20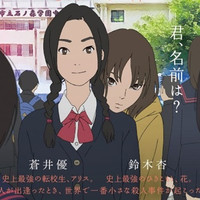 A poster visual for critically acclaimed Japanese director Shunji Iwai's first anime feature Hana to Alice Satsujin Jiken/The Case of Hana & Alice is revealed to Japanese media today. It is a prequel to his live-action film in 2004 Hana to Alice/Hana & Alice starring An Suzuki (Hana Arai) and Yu Aoi (Tetsuko Arisugawa/Alice), which focused on everyday life of the two high school girls. Ten years after the release of the original film, the two actresses reprise their roles in the upcoming anime film as well.
While Iwai serves as the director, screenplay writer, and soundtrack composer, Yuhei Sakragi (009 RE:CYBORG) supports him as CG director, with rotoscope animation director Yoko Kuno (Airy Me: see the music video below). The film tells how the two girls found each other when they were third grade junior high students, in solving the mystery of a rumored murder case. It opens in Japan on February 20.
Poster visual
Trailer
Teaser poster visual
Japanese poster for the 2004 film
"Airy Me" (Cuushe) music video created by Yoko Kuno
via: Cinema Today
© "The Case of Hana & Alice" Production Committee