17.5m tall Zaku II surprises office workers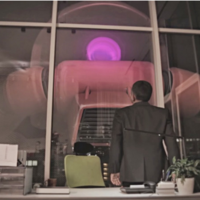 A group called "GUNDAM FEVER PROJECT" has posted their first prank video "-The Attack of ZAKU II in TOKYO-" on YouTube. The scene is set at an office in Tokyo. The screens disguised as glass windows suddenly show a 1/1 scale Char Zaku, so close to the building.
While the details of the project is still unknown, the description of the video says, "This surprise is only a prologue. Gundam Fever, begins." So more videos are presumably coming soon.
via: News Rounge