The 27-member unit has performed the OP song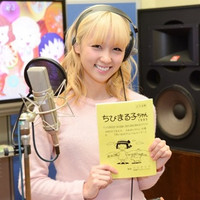 It was confirmed yesterday that Ami, a 26-year-old singer of 27-member unit E-girls, will make her voice actress debut in the up coming one hour TV special "Chibi Maruko-chan: Anime 25th Anniversary" to be aired on January 25. She plays as herself and introduces the highlights of the program in the beginning alongside the Sakura family.
The E-girls' version of "Odoru Pompokolin" has been used as the OP song for the long-running TV anime since the 954th episode aired on May 4, 2014. The song was originally performed by B.B.Queens as their 1st single and released in April 1990, becoming one of the most popular anime theme songs in history.
Ami in the voice recording session (via: BARKS)
"Odoru Pompokolin" E-girls version
CD Jaket
via: BARKS
© Sakura Production/Nippon Animation
© 2014 avex marketing Inc.