The total print of the series has reached 18 million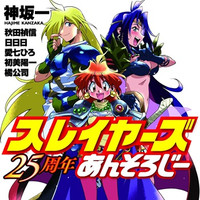 The first volume of Hajime Kanzaka's long-running light novel series Slayers was published in January 1990. So far the series has 50 volumes in total (original series: 15 volumes, Special series: 30 volumes, the ongoing Smash. series: five volumes), and its total print has reached 18 million copies.
In commemoration of the series' 25th anniversary, publisher Fujimi Shobo today releases "Slayers 25th Anniversary Anthology" novel book containing six new short stories written by popular light novel writers, including the original creator Kanzaka himself, in Japan today, January 20. The other five writers are: Yoshinobu Akita (Sorcerous Stabber Orphen), Akira ([email protected]), Hiro Ainana (Death March kara Hajimaru Isekai Kyousoukyoku), Yoichi Hatsumi (Rising x Rydeen), and Koushi Tachibana (Date A Live).
Voice actress Megumi Hayashibara, who has voiced the protagonist Lina Inverse since the first TV anime
in 1995, gives her comment on the wraparound jacket band of the book, "The 25th anniversary!? It's
nothing but a simple check point!!"
The cover illustration
Source: press relase