Featuring the nine members of μ's in the costume of the 2nd season OP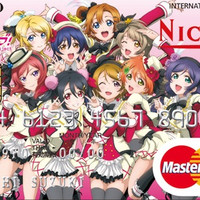 The official website for the Love Live! anime series today announced that Japan's largest credit company Mitsubishi UFJ NICOS will be releasing the official Love Live! credit card starting tomorrow, January 22. The credit card features a newly-drawn illustration of the nine members of μ's in the costume that they were wearing in the OP of the TV anime second season. And new contractors of the card will also receive a sticker with a different image of the idols. The entry application will begin tomorrow morning.
"Love Live!" credit card design
Bonus sticker
CM for TV anime 2nd season OP song "Sore wa Bokutachi no Kiseki"
Source: "Love Live!" anime official website
© Project Love Live!