Directed by Tsutomu Hanabusa (Handsome Suit, Sadako 3D)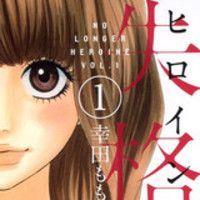 It is confirmed today that a live-action film adaptation of Momoko Kouda's Heroine Shikkaku (No Longer Heroine) shoujo manga in the works for a summer 2015 release in Japan. The manga was serialized in Shueisha's monthly shoujo manga magazine Bessatsu Margaret from March 2010 to March 2013, then compiled in 10 tankobon volumes. This is the first live-action adaptation project for the 30-year-old manga artist Kouda.
The story centers on a high school girl Hatori Matsuzaki. She has believed that she is the one and only heroine who is destined to marry her childhood friend Rita Terasaka. The reality is, however, not so simple as that.
25-year-old fashion model/actress Mirei Kiritani plays the high school girl protagonist. In December 2014,
she ranked 8th in the 100 Most Beautiful Faces of 2014 chosen by TC Candler. She recently starred in a
female version of Super Sentai parody film Joshi Zu directed by Yuichi Fikuda (HK/Hentai Kamen). Tsutomu
Hanabusa (Handsome Suit, Sadako 3D) is attached to the film as director.
Mirei Kiritani/Hatori Matsuzaki
Kento Yamazaki/Rita Terasaka
1st and 2nd volume covers
9th and 10th volumes
via: Comic Natalie
© Momoko Kouda/Shueisha