Created by anime production studio Genco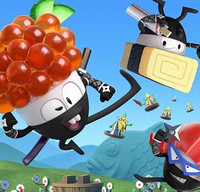 Created by anime production studio Genco, anime series "Sushi Ninja" stars Ikura, Maguro, and Tamago, who team up with the Princess to adventure through the Food Galaxy in search of the Happiness Seasoning. Along the way, the team grows in strength as they aim to become the ultimate Sushi Ninjas.
The series boasts a cast of famous voice actors, including Yuki Kaji, Romi Park, Mamoru Miyano, and Nana Mizuki. The soundtrack also features well-known musicians, with Katsuhisa Hattori serving as music director and Hironobu Kageyama, Masaaki Endo, and Hiroshi Kitadani performing the theme song. The series gained significant attention immediately following the release of its first episode due to the fact that a well-known voice cast was participating in a previously unknown CG anime series.
The web series launched in July 2014, and all three episodes are currently available to stream online. The series has also been translated into English in order to reach a worldwide audience. The next project for the series will be the "Sushi Ninja Portal Site", which will post QR codes with links to various creative works and local shopping districts around Harajuku.