The show featuring the new cast will come back again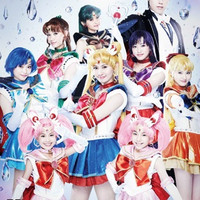 The Sailor Moon 20th anniversary project official site announced today that a new Sailor Moon musical is planned to be performed at AiiA 2.5 Theater Tokyo and other locations by the end of this year. More details including the story and new cast will be forthcoming on the site. As the second musical "-Petite Étrangère-" last year featured the Black Moon arc of the original Sailor Moon story, the third will tell the Death Busters arc?
In Japan, the second musical featuring the new cast was first performed at AiiA Theater Tokyo from August 21 to 31, 2014, then at Umeda Arts Theater's Theater Drama City in Osaka from September 5 to 7. It was also played at the Shanghai Theater Academy in China from January 16 to 18, 2015. The 8,424 yen DVD set of the show is just released in Japan today, January 28. Check the clips from the second show below.
Digest video
Theme song "Ai no Starshine" clip
"-Petite Étrangère-" first day digest
DVD jacket
Musical original key visual
Source: Sailor Moon 20th anniversary project official site
© Naoko Takeuchi
© Naoko Takeuchi, PNP/Kodansha, Nelke Planning, Dwango