The episode is titled "Ransom for Carol"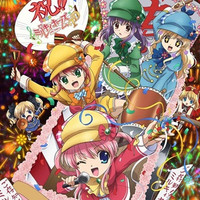 Following the knife-featured third episode of Assassination Classroom last Friday, the on-air of the fifth episode of the Tantei Kageki Milky Holmes TD TV anime, which was originally scheduled to be broadcasted this Saturday night, is cancelled. Again, the official website explains the reason as, "in light of the current circumstances." The first episode will be re-broadcasted in the time slot.
The fifth episode is titled "Ransom for Carol" and includes a kidnapping situation in the story. In the first stage of the ongoing Japanese hostage case, the Islamic State group demanded a $200 million ransom from the Japanese government. Though Milky Holmes itself is a totally harmless comedy anime series, someone in the TV station or sponsor companies may think that using the word "ransom" in the current situation is not appropriate. Do you agree with this decision?
Anime key visual
Source: "Tantei Kageki Milky Holmes TD" official website
© Milky TD Production Committee