Featuring the costume for "KiRa-KiRa Sensation!"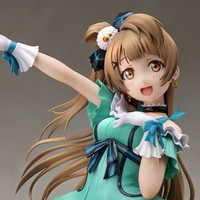 Dengekiya, the official online store for Ascii Media Works' "Dengeki" brand, has started accepting pre-orders for a 1/8th scale figures of Kotori Minami from the Love Live! School Idol Project franchise. Pre-orders for the 11,800 yen (about 100 US dollars) figure will be accepted till April 5 and the scheduled delivery date is in late August.
Kotori is the first entry from the Love Live! Birthday Figure Project, which is offering a 1/8 scale figure of the nine Love Live! idols around their birthday month. Kotori's birthday is, for example, September 12. The costumes for the birthday figures are the ones the anime characters were wearing for "KiRa-KiRa Sensation!," the insert song used in the 12th episode of the TV anime second season.
"Love Live! Birthday Figure Project" release schedule
Kotori Mimami (September 12) / late August 2015
Eri Ayase (October 21) / late September 2015
Rin Hoshizora (November 1) / middle of October 2015
Hanayo Koizumi (January 17) /late December 2015
Umi Sonoda (March 15) / late February 2016
Maki Nishikino (April 19) / late March 2016
Nozomi Tojo (June 9) / middle of May 2016
Nico Yazawa (July 22) / late June 2016
Honoka Kousaka (August 3) / late July 2016
"KiRa-KiRa Sensation!" CM
CD jacket
Source: press release
(C)2013 Project Love Live!