Pretend you're a magical girl like Sakura with this wand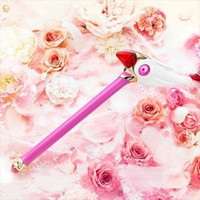 It's a great time to be a shoujo anime fan, especially if you're into series like Sailor Moon or Card Captor Sakura, which are both receiving new lines of merchandise with awesome role-play pieces and more.
The latest addition to the fold is the "I Am A Cardcaptor ~Sealing Wand~," which is of course a product based on the very wand Sakura uses in order to capture the Clow Cards and seal them back into their original card forms in the anime series.
This particular wand came out first in 1999, then again in 2004 when the series was shown on television, and now it's being re-released with an improved design as well as voice recordings from Sakura's actress. The eyes and beak of the wand glow as well, so it's perfect for Card Captor roleplay.
The wand is available for preorder right now through Premium Bandai for 7,344 yen (about $63) without shipping and handling, which is a great price for this excellent CCS piece. Better jump on it now, and return to thy true form! Clow Card!
[via Tokyo Otaku Mode]
-------
Fueled by horror, rainbow-sugar-pixel-rushes, and video games, Brittany is a freelancer who thrives on surrealism and ultraviolence. Follow her on Twitter @MolotovCupcake and check out her portfolio for more.