Collection by Josiah Chua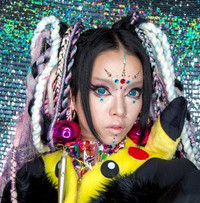 Today's dose of crazy Japanese eye candy comes in the form of a new video from Tokyo Fashion documenting an eye popping shoot inside Tokyo's famed Robot Restaurant. Models include faces that might be familiar to CRN readers including RinRin Doll and Elleanor.
Says Tokyo Fashion by way of context: Emerging fashion designer Josiah Chua created the "HYPERREALITY" collection as part of his graduation work at Tokyo's famous Bunka Fashion College. The collection is partially inspired by memories of the monsters that inhabited Chua's childhood - monsters who helped to inspire his journey from Singapore to Japan
Enjoy the crazy colors and blinky lights below!
Photos from the shoot can be found at
https://www.facebook.com/josiahchualabel
------
Patrick Macias is editor in chief of Crunchyroll News and Otaku USA magazine. He is also the author of the HYPERSONIC music club webcomic.