Clerk's picks list selects from manga that have published published five volume or less by the end of November 2014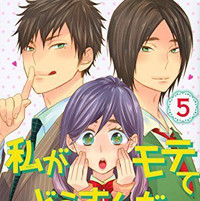 After polling 2,360 workers from around Japan, bookstore/media retailer Honya Club has announced their annual clerks picks list of manga for readers to try in the new year. Printed in the new issue of Nikkei Entertainment magazine, the list selects from manga that have published published five volume or less by the end of November 2014.
1. The Ancient Magus' Bride by Kore Yamazaki - set to be published in North America by Seven Seas
2. My Hero Academia - by Kohei Horikoshi - included in Viz's Weekly Shonen Jump
3. Mr. Nietzsche in the Convenience Store by Koma Matsu and Hashimoto
4. Tanaka is Always Languid by Nozomi Uda
4. Orange by Ichigo Takano - Read now on Crunchyroll Manga!
6. Re: Life by Sou Yayoi
7. Handa-kun by Satsuki Yoshino
8. Heroic Legend of Arslan by Hiromu Arakawa, based on novel by Yoshiki Tanaka - on Crunchyroll and published by Kodansha
9. Kasane by Daruma Matsuura
10. Amaama to Inazuma by Gido Amagakure
11. Takadaike no Hitobito by Kozueko Morimoto
12. Hatarakanai Futari by Satoru Yoshida
13. Kiss Him, Not Me by Junko - available on Crunchyroll manga
14. Hinomaru-Zumou by Kawada
15. Dagashi Kashi by Kotoyama
2014's list included
1. Sakamoto desu ga? by Nami Sano
2. Ajin by Gamon Sakurai
3. Food Wars - Shokugeki no Soma by Yuto Tsukuda and Shun Saeki
4. The Seven Deadly Sins by Nakaba Suzuki
After the death of the king due to the Holy Knights, Princess Elizabeth calls together the legendary warriors, The Seven Deadly Sins.
5. One-Punch Man by ONE and Yuusuke Murata
6. Horimiya by HERO and Daisuke Hagiwara
7. Honey by Amu Meguro
8. Kuu Neru Futari Sumu Futari by Kinoko Higurashi
9. Hibi Chocho by Suu Morishita
10.Wakako Sake by Chie Shinkyu
11. Bungo Stray Dogs by Kafka Asagiri and Haruka 35
12. DAYS and Tsuyoshi Yasuda
13. Yugami-kun ni ha Tomodachi ga Inai by Jun Sakura
14. P and JK by Maki Miyoshi
15. Someday I will be Breakfasting at Tiffany's by Hirochi Maki
------
Scott Green is editor and reporter for anime and manga at geek entertainment site Ain't It Cool News. Follow him on Twitter at @aicnanime.