Directed by Tatsuya Ishihara (Haruhi Suzumiya, Love, Chunibyo & Other Delusions)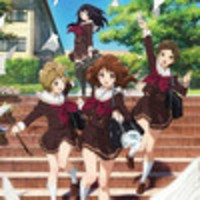 Kyoto Animation today updated the official website for its upcoming TV anime adaptation of Ayano Takeda's high school music club themed novel Hibike! Euphonium/Sound! Euphonium, to introduce a new key visual featuring the four main girls, five additional voice cast, the OP/ED theme song artists, and the TV stations for an April premiere.
Newly announced voice cast:
Asuka Tanaka (euphonium): Minako Kotobuki (Tsumugi Kotobuki in K-ON!)
Haruka Ogasawara (baritone sax): Saori Hayami (Ayase Aragaki in Oreimo)
Kaori Nakaseko (trumpet): Minori Chihara (Yuki Nagato in the Haruhi Suzumiya series)
Shuichi Tsukamoto (trombone): Haruki Ishiya (Cat Sith in Sword Art Online II)
Noboru Taki (orchestra club consultant teacher): Takahiro Sakurai (Suzaku Kururugi in Code Geass)
Previously announced:
Kumiko Oumae (euphonium): Tomoyo Kurosawa (Otome Arisugawa in Aikatsu!)
Hazuki Kato (tuba): Ayaka Asai (Mio Naruse in The Testament of Sister New Devil)
Sapphire Kawashima (contrabass): Moe Toyota (Fumi Kujo in Jinsei)
Reina Kousaka (trumpet): Chika Anzai (Chaika Trabant in Chaika - The Coffin Princess)
The OP song "Dream Solister" is performed by TRUE, who recently provided her 1st single "UNISONA" as
the OP song for Buddy Complex and 3rd single "ailes" as the ED song for Maria the Virgin Witch. The ED song
"Tutti!" is sung by the four voice actresses: Tomoyo Kurosawa, Ayaka Asai, Moe Toyota and Chika Anzai.
The Tatsuya Ishihara-directed TV anime will premiere on Tokyo MX, Sun TV, KBS Kyoto, TV Aichi and BS 11
in April.
New key visual
Longer version PV
30-second version PV
1st key visual
Main staff:
Director: Tatsuya Ishihara
Series Composition: Jukki Hanada
Series Director: Naoko Yamada
Character Designer: Shouko Ikeda
Director of Photography: Kazuya Takao
Color Designer: Akiyo Takeda
Background: Mutsuo Shinohara
Musical Instrument Design: Hiroyuki Takahashi
Music: Akito Matsuda
Sound Director: Yota Tsuruoka
via: "Hibike! Euphonium" TV anime official Twitter
© Ayano Takeda, Takarajimasha/"Hibike!" Production Committee