The final selection round is set in Tokyo in late April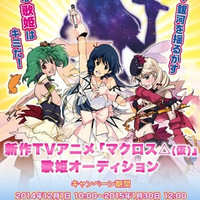 It is confirmed that about 8,000 people have applied for the audition for the main singer/voice actress for the upcoming new Macross TV series, tentatively titled Macross Δ. It is the highest number in the history of the franchise, even 3, 000 more that that for Macross Frontier in 2007 and 5,000 more than the recent "Miss Macross 30 Contest" in 2012. In the 2007 audition, Megumi Nakajima was chosen as the voice and singer for Ranka Lee from about 5,000 entries.
The first auditions was held at Joysound's karaoke boxes across Japan for two months from December 1, 2014, to January 30, 2015. The organiser is now in a process to choose the finalists with videos and profile documents. The final selection round will be held in Tokyo in late April. The finalists will go through interviews with the judges, and will demonstrate their singing and voice performing skills. Then the new heroine will be announced on the portal site for the Maross franchise with more information about
the newTV series.
Main visual for the audition
CM
via: Akiba Souken
© 1984 BigWest © 2011 BigWest/Movie Macross F Production Committee