Directed by Masashi Ishihama (From the New World)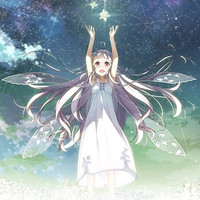 After the seven-day countdown is over, it is today revealed on the mysterious garakowa.jp site that the project is an anime feature film titled Glass no Hana to Kowasu Sekai (Vitreous Flower Destroy the World) which is based on Physics Point's illustration and novel work D.backup. It won the Grand Prize in Pony Canyon's first Anime-ka Taishou (Anime Adaptation Grand Prix) in November 2013, and the anime adaptation project was already announced at the time as the prize, with 1 million yen prize money.
While the details of the story is still unknown, the anime film is scheduled to be released in Japan at some point of this year.
Announced main staff:
Original story: Physics Point "D.backup"
Director: Masashi Ishihama (From the New World)
Screenplay: Fumihiko Shimo (Engaged to the Unidentified, Amagi Brilliant Park)
Original character design: Kantoku (The "Hentai" Prince and the Stony Cat.)
Anime Production A-1 Pictures (Sword Art Online, The Seven Deadly Sins)
Distribution: Pony Canyon
Main visual
Teaser posted in September 2014 featuring an image song by chukka
Source: "Glass no Hana to Kowasu Sekai" offiical website via: Animate. TV
© project D. back up