TV anime based on popular vocaloid song series will premiere in April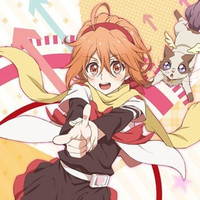 The official website for the upcoming TV anime based on Last Note.'s vocaloid song series Mikaera Gakuen Kumikyoku, which already has novel and manga adaptations as well, today updated with the announcements for its main voice cast and OP song. Last Note. is well-known for his vocaloid songs such as "One Step Layered" (Hatsune Miku & Megurine Luka) and "Setsuna Trip" (GUMI), both have been viewed over 2 million times on Nico Nico Douga.
Announced voice cast:
Eruna Ichinomiya: Juri Kimura (Aoi Miyamori in Shirobako)
Seisa Mikagura: Saori Onishi (Fianna Ray Ordesia in Bladedance of Elementalers)
Otone Fujishiro: Aki Ozawa (Chiyo Sakura in Gekkan Shoujo Nozaki-kun)
Himi Yasaka: Ayaka Suwa (Hijiri Kasuga in Trinity Seven)
Shigure Ninomiya: Nobunaga Shimazaki (Haruka Nanase in Free!)
Bimii: Yoshitsugu Matsuoka (Kirito in Sword Art Online)
The OP song "Houkago Kakumei" (After School Revolution) is performed by Houkago Rakuen-bu, a newly
formed voice actress unit for the anime by Juri Kimura, Saori Onishi and Aki Ozawa. The song is
written/composed by Last Note. himself and its CD single is scheduled to be released in Japan on April 22.
The Mikaera Gakuen Kumikyoku TV anime is slated for this April.
TV Anime Main staff:
Original story: Last Note.
Original character design: Akina
Director: Taro Iwasaki (Memories Off 5, One Week Friends)
Series composition: Masahiro Yokotani (Sgt Keroro, Free!)
Anime character design/Chief animation director: Manamu Amasaki
(Engaged to the Unidentified co-chief animation director)
Art director: Takuma Mochizuki (Studio Tulip)
Art design: Maho Takahashi (Studio Tulip)
Color design: Genta Makabe
Director of photography: Tomoyuki Shiokawa (T2 Studio)
3D: Etsuhiro Watanabe (Plastic Memories)
Editing: Daisuke Imai (J Film)
Sound director: Jin Akitagawa
Music: Yoshiaki Fujisawa (Love Live!, Rail Wars!)
Music production: Kadokawa (Media Factory)
Anime production: Doga Kobo (Yuruyuri, Engaged to the Unidentified)
Production: Mikaera Gakuen Kumikyoku Production Committee
Source: "Mikaera Gakuen Kumikyoku" TV anime official website
© 2015 Last Note., Kadokawa Media Factory/Mikaera Gakuen Kumikyoku Production Committee