The latest 12th volume hits stores February 19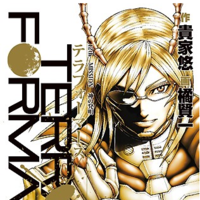 It is confirmed today on February 11 that the Terra Formars sci-fi action manga series created by Yu Sasuga (story) and Kenichi Tachibana (art) has gotten a total print run of 10 million copies in Japan. It started its serialization on Shueisha's Miracle Jump in January 2011. After finishing the Bugs 2 arc set in 2599, it moved to Weekly Young Jump for the Annex I arc in 2620. The latest 12th tankobon volume is scheduled to be released in Japan on February 19.
The coves of the 1st and 12th volume
Source: Mantan Web
© Yu Sasuga, Kenichi Tachibana/Shueisha Inc.