The seven-disc set will be released on March 18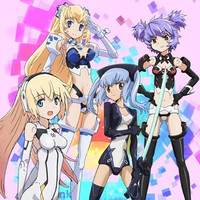 Pony Canyon's official YouTube anime channel today posted a one-minute PV for the upcoming release of the Blu-ray box of the 2012 TV anime Busou Shinki based on Konami Digital Entertainment's action figure series. The seven-disc box set contains all of the 12 episodes and the unaired 13th episode "Install x Dream". The episode was originally included in the 7th volume of the solo Blu-ray released in June 2013.
The anime character designer Takahiro Kishida newly draws the package illustration and all of the episodes come with two-type audio commentaries by the cast and staff. The price for the set is 18,000 yen (about 150 US dollars) and its scheduled release day is March 18. And more, four re-produced edition character figures of Ann: Angel Type Arnval Mk.2, Hina: Devil Type Strarf Mk.2, Ines: Valkyrie Type Altines and Lene: Valkyrie Type Altlene will be offered exclusively to the purchasers at the price of
8,000 yen (US$66) for one, 25,000 yen (US$208) for all four.
PV for the Blu-ray box
Main visual
© Konami Digital Entertainment/Busou Shinki Project