The shooting will begin in the middle of May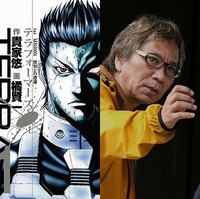 It is officially announced today on February 12 that a live-action adaptation film of the Terra Formars sci-fi action manga series created by Yu Sasuga (story) and Kenichi Tachibana (art) is in the works for 2016. Warner Brothers Japan (Death Note, Rurouni Kenshin) will distribute it.
54-year-old Takashi Miike, who previously worked on several live-action adaptation films based on popular anime/manga franchise, such as Crows Zero (2007), Yatterman (2009) and Nintama Rantaro (2011), serves as the director. He says, "I'm gonna prove a great film can be made from a great manga. If you despise films, you'll get burned!" The shooting is scheduled to begin in the middle of May, and the cast and staff will be announced shortly.
Tankobon 1st volume cover and Takashi Miike
The Terra Formars manga started its serialization on Shueisha's Miracle Jump in January 2011. After finishing
the Bugs 2 arc set in 2599, it moved to Weekly Young Jump for the Annex I arc in 2620. The latest 12th
tankobon volume is scheduled to be released in Japan on February 19. As reported yesterday, it has gotten
a total print run of 10 million copies in Japan.
Source: Eiga.com, Comic Natalie
© Yu Sasuga, Kenichi Tachibana/Shueisha Inc.