The highly anticipated film opens in Japan on April 18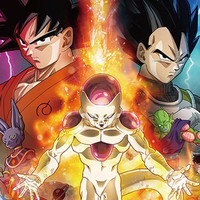 As reported, the upcoming anime film Dragon Ball Z: Fukkatsu no F (Resurrection of F) will be the first Japanese film to receive IMAX 3D screenings in Japan. In addition, it will also get 4DX screenings at selected 10 theaters across Japan. 4DX provides various environmental effects including seat motion, wind, mist, scents and flash, to the audience in the theater. How will the DBZ battle like in the 4DX theater?
The theater list: Cinema Sunshine Heiwajima (Tokyo), United Cinema Toyusu (Tokyo), Odawara Corona Cinema World (Kanagawa), US Cinema Kisarazu (Chiba), Cinema Sunshine Numazu (Shizuoka), Nakagawa Corona Cinema World (Aichi), Toyokawa Corona Cinema World (Aichi), Ohgaki Corona Cinema World (Gifu), Fukuyama Corona Cinema World (Hiroshima), Kokura Corona Cinema World (Fukuoka).
Dragon Ball Z: Fukkatsu no F is scheduled to be released in 2D, 3D, IMAX 3D and 4DX in Japan on April 18.
Idol group Momoiro Clover Z will perform the theme song, while hardcore punk band Maximum The
Hormone's 2008 song "F" will be featured in a battle scene of the film as well.
2nd teaser for the film
1st teaser
Poster visual
via: Akiba Souken
© Bird Studio, Shueisha/2015 "Dragon Ball Z" Production Committe