Broadcast begins on March 28th at 1:00 AM EDT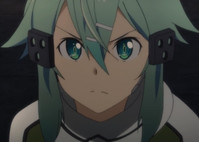 Aniplex of America has announced that Adult Swim's Toonami block will broadcast the second season of smash hit Sword Art Online in Sword Art Online II. The broadcast will begin on March 28th at 1:00 AM EDT.
The dub cast from the first season will reprise their roles in Bryce Papenbrook as Kirito, Cherami Leigh as Asuna, Cassandra Lee Morris as Leafa, Sarah Anne Williams as Lisbeth, Christine Marie Cabanos as Silica, Kirk Thornton as Klein and Stephanie Sheh as Yui. Aniplex of America has also confirmed that Michelle Ruff will be joining the cast as Sinon.
Synopsis:
1 year after the SAO incident, Kirito is approached by Seijiro Kikuoka from Japan's Ministry of Internal Affairs and Communications Department "VR Division" with a rather peculiar request.

That was an investigation on the "Death Gun" incident that occurred in the gun and steel filled VRMMO called Gun Gale Online (GGO). "Players who are shot by a mysterious avatar with a jet black gun lose their lives even in the real world..." Failing to turn down Kikuoka's bizarre request, Kirito logs in to GGO even though he is not completely convinced that the virtual world could physically affect the real world.

Kirito wanders in an unfamiliar world in order to gain any clues about the "Death Gun." Then, a female sniper named Sinon who owns a gigantic "Hecate II" rifle extends Kirito a helping hand. With Sinon's help, Kirito decides to enter the "Bullet of Bullets," a large tournament to choose the most powerful gunner within the realm of GGO, in hopes to become the target of the "Death Gun" and make direct contact with the mysterious avatar.
Who's excited to see the English dub get broadcast on Toonami?
---
Humberto Saabedra is the Owner of AnimeNews.biz, Editor-in-Chief of PhoneNews.com and a part-time recording engineer. He can also be found musing on things (and Nico Robin) at @AnimeNewsdotbiz