Aya Hirano and Daisuke Ono will be absent from the event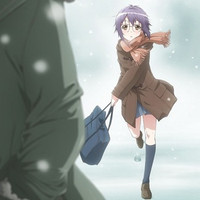 The teaser site for the upcoming Satelight-produced TV anime adaptation of Nagato Yuki-chan no Shoshitsu/The Disappearance of Nagato Yuki-chan, Puyo's official spin-off manga series of Nagaru Tanigawa's Haruhi Suzumiya light novel series, announced that an advance screening event for the first episode will be held at Kadokawa Cinema Shinjuku in Tokyo on March 22. It will also include a talk show by the main voice cast, all of whom reprise their roles from the previous anime series produced by Kyoto Animation.
A little disappointing for the fans, Aya Hirano (Haruhi Suzumiya) and Daisuke Ono (Itsuki Koizumi) will be absent from it for some reason. The VAs who are scheduled to join are: Minori Chihara (Yuki Nagato), Tomokazu Sugita (Kyon), Natsuko Kuwatani (Ryoko Asakura), Yuko Goto (Mikuru Asahina), Yuki Matsuoka (Tsuruya-san), and Minoru Shiraishi (Taniguchi) and Megumi Matsumoto (Kunikida) as the
MCs. Lawson Ticket today starts accepting pre-requests for the 3,500 yen advance tickets, and the
general sale will begin on March 7.
The TV anime The Disappearance of Nagato Yuki-chan is slated for this April.
TV anime key visual
Manga 1st and 7th volume covers
Source: "The Disappearance of Nagato Yuki-chan" teaser site
(C)2015 Nagaru Tanigawa, Noizi Ito, Puyo/KADOKAWA Kadokawa Shoten?Kita High School Literature Club