"Battle for Planet Nine" is slated for this April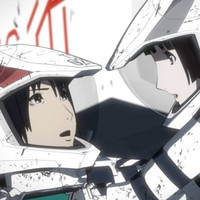 It has been confirmed that two-member unit angela performs "Kishi Koushinkyoku" (Knight's March), the OP song for the upcoming TV anime second season Knights of Sidonia: Dai-kyu Wakusei Seneki/Battle for Planet Nine, while four-member boys group Customi Z sings the ED song "Chinkonka -requiem-." The 12-episode first season of the TV anime was aired in Japan from April to June 2014. The second season is scheduled to premiere on TBS's "Animeism" block in April.
angela, consists of singer atsuko and guitarist/keyboardist katsu, previously performed the OP song for the first season, "Sidonia" (21st single), and won the theme song award in the 19th Animation Kobe/Radio Kansai Award with the song in December 2014. Their upcoming 24th single containing "Kishi Koushinkyoku" and "Ai, Hitokakera" (theme song for the Knights of Sidonia compilation film to be released on March 6) will be released in Japan on April 29.
Customi Z has also performed "Hitosuji no Hikari" (A ray of light), the ED theme song for the advance
screening event for the TV anime second season, which was held at Tokyo Dome City Hall on November 23,
2014. "Chinkonka -requiem-" will be released as their 2nd major single on June 3.
angela "Sidonia" PV short ver.
Customi Z "Hitosuji no Hikari" PV
© music wonder circus
© 2015 STARDUST MUSIC, INC.