Featuring coupling between Phoenix Ikki and Black Swan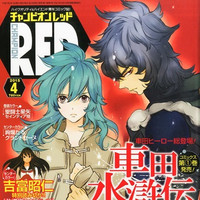 49-year-old manga artist Yun Kouga, who is well known for her Earthian and Loveless series, announced on her official Twitter account yesterday that the upcoming April issue of Akita Shoten's Champion Red monthly magazine comes with a bonus book of her yaoi doujinshi works based on Masami Kurumada's Saint Seiya series. According to her, the yaoi works were drawn in the mid-1980s when she was 20 to 22 years old, and the story featured coupling between Phoenix Ikki and Black Swan. The works are, of course, officially approved to be reissued by the original creator Kurumada and the editorial department.
Kouga is currently serializing Kurumada Suikoden: Hero of Heroes, a crossover series using Kurumada's popular characters from Ring ni Kakero, Fuma no Kojiro and Saint Seiya, in the magazine since December 2013. The April 2015 issue also featuring the cover illustration by Kouga will be published
in Japan on February 19, simultaneously with the first volume of Kurumada Suikoden.
Champion Red April issue cover
"Kurumada Suikoden: Hero of Heroes" 1st volume cover
Source: Yun Kouga official Twitter