Does the new fad mark another step into a cyberpunk future?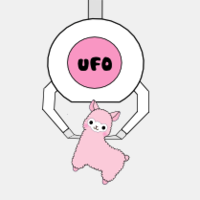 Japan's arcades have been hit hard by the rise of cell phone games and home video consoles with advanced online play. But when the going gets "wired", the tough adapt to the changing market by putting a new spin on an old concept.
Cyberstep Inc. and Netch Co. are two Japanese enterprises that oversee the operation of over two hundred remote-controlled crane claw machines. Players can access and control the claw machines from their computers over the Internet or from apps on their smart phones. Prizes – such as candy and character goods of popular anime series – are sent to the winners via traditional mail. These services boast hundreds of thousands of users generating thousands of plays per day.
Japan isn't the only country to get in on the remote-control crane claw act, either. Pictured above is The Santa Claw, an American Internet-operated claw machine developed by Real Art Design Group of Dayton, Ohio.
While the imagery of mostly empty warehouses full of crane claw machines seemingly operating themselves may be straight out of a William Gibson novel, it's undeniable that these new services offer the chance for claw machine enthusiasts to win prizes from the convenience of their home computers.
Are remote-controlled crane games the future of the dwindling arcade market? I for one welcome our new robot overlords. May their cold, steel pincers continue to grant us cool toys and trinkets for years to come.
Sources: Asahi Shimbun
Paul Chapman is the host of The Greatest Movie EVER! Podcast and GME! Anime Fun Time.