Latest TV anime based on Rumiko Takahashi's manga will premiere on April 4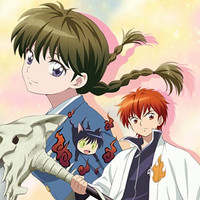 NHK's official website for the upcoming TV anime adaptation of internationally acclaimed manga artist Rumiko Takahashi's ongoing serialization work Kyoukai no Rinne/Rin-ne today announced its theme song artists. Four-member rock band KEYTALK performs the OP song "Ouka Ranman" (Cherry blossoms in full bloom), while five-member band Passepied for the ED song "Tokinowa" (The ring of time). They are the first anime tie-up songs for both bands.
KEYTALK artist photo © 2015 KEYTALK
3rd single "Monster Dance" (October 2014)
Passepied © 2015 Warner Music Japan
5th digital single "Zeitakuna Iiwake" (December 2014)
NHK's educational channel E Tere (NHK-E) will start airing the 25-episode supernatural comedy anime series
at 17:30 on April 4 (JST). Seiki Sugawara (D-Frag!) serves as the series director for Brain's Base (D-Frag!, One
Week Friends.). Michiko Yokote (Squid Girl, SHIROBAKO) works on series composition.
TV anime main visual
The announced voice cast:
Rinne Rokudou: Kaito Ishikawa (Tobio Kageyama in Haikyu!)
Sakura Mamiya: Marina Inoue (Armin Arlert in Attack on Titan)
Rokumon: Hitomi Nabatame (Saori Makishima in Oreimo, Mana Aida/Cure Heart in Dokidoki! PreCure)
Tamako: Satsuki Yukino (Kagome Higurashi in Inuyasha)
Sabato Rokudou: Kappei Yamaguchi (Ranma Saotome in Ranma 1/2, Inuyasha in Inuyasaha)
The covers of the manga 1st and 23rd volume
Source: NHK
© Rumiko Takahashi, Shogakukan/NHK, NEP. ShoPro