Summer 2015 TV anime is directed by Masato Matsune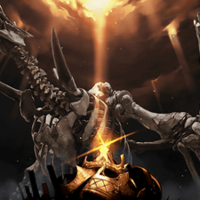 Toho Animation's official YouTube channel today posted a 150-second promotional video for a media mix project Chaos Dragon, which contains a TV anime produced by SILVERLINK./CONNECT, story telling board game, and smartphone game by Sega Networks.
Chaos Dragon is based on a RPF (role playing fiction) Red Dragon, created through TRPG (table-talk role-playing game) sessions by five character creators: Gen Urobuchi (Puella Magi Madoka Magica), Kinoko Nasu (Fate/stay night), Izuki Kougyoku (Garden Lost), Doriru Shima, and Ryogo Narita (Durarara!!). It is supported by Toho Animation, Seikaisha and Sega Networks. Seven volumes of the Red Dragon novel series illustrated by Doriru Shima were published by Seikaisha. The first entry of the project, TV anime Chaos Dragon: Sekiryu Seneki (Red Dragon War) is set for summer 2015.
TV anime "Chaos Dragon: Sekiryu Seneki (Red Dragon War)"
Director: Mastato Matsune (Assassination Classroom OP movie)
Series composition: Shou Aikawa (Ultraman Great, Fullmetal Alchemist)
Music: Hitoshi Sakimoto (Final Fantasy XII, Valkyria Chronicles)
Anime production: SILVERLINK./CONNECT (Bonjour Sweet Love Patisserie)
Official site: http://chaosdragon.red/
Board game "Chaos Dragon: Haou Shunjyu (Supreme Ruler Years)"
Star players:
Kazutaka Kodaka (Danganronpa: Trigger Happy Havoc)
Makoto Sanda (Rental Magica)
Hiroyuki Takei (Sharman King, Karakuri Douji Ultimo)
Ryogo Narita (Durarara!!)
Jin Haganeya (Demonbane) + Vio Shimokura (STEINS;GATE)
PEACH-PIT (Rozen Maiden)
Yasumi Matsuno (Final Fantasy XII)
Board game production: Kiyomuna Miwa (Kaze no Stigma, Metal Head Extream)
Art Direction: Doriru Shima+Veia
Official site: http://sai-zen-sen.jp/special/chaosdragon/
Smartphone Game "Chaos Dragon: Konton Sensou (Chaos War)"
Platform: Android/iOS (summer 2015)
Free to Play (In-app purchases available)
Developer: Sega
Scenario writers: Carlo Zen, Yoichiro Koizumi, Ukyo Kodachi (Team Barrel Roll), Makoto Sanda,
Ryogo Narita, Jin Haganeya (Nitroplus), Shunsaku Yano and more
Illustrators: Cheess Gouda, Doriru Shima, sime, Take, Hiroyuki Takei, Chuou Higashiguchi (Nitroplus),
Nekokan Masshigura (Nitroplus), PEACH-PIT, minoa (Nitroplus) and more
Music: Hitoshi Sakimoto
Official site: http://chaosdragon.sega-net.com/
"Chaos Dragon" main visual
"Red Dragon" novel 1st and 7th volume (6th volume part 2) covers
via: Web Newtype
© SEGA
© SEGA Networks 
© Konton Keikaku/"Chaos Dragon Sekuryu Seneki" Production Committee