Directed by Youhei Suzuki (The "Hentai" Prince and the Stony Cat.)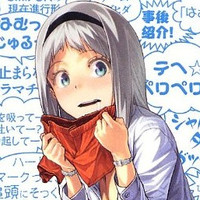 The official website and Twitter for the upcoming TV anime adaptation of Hirotaka Akagi's light novel series Shimoneta to Iu Gainen ga Sonzai Shinai Taikutsu na Sekai (A Boring World Where the Concept of 'Dirty Jokes' Does Not Exist) launched today, announcing its main cast, staff and July premiere.
The first volume of the comedy series won the award of excellence in the 6th Shogakukan Light Novel Grand Prix in 2011. It has been published from Shogakukan's GaGaGa Bunko imprint since July 2012, and currently seven volumes are available in Japan. A manga adaptation illustrated by N' Yuzuki has been also serialized in MAG Garden's Monthly Comic Blade since its May 2014 issue.
Main voice cast:
Tanukichi Okuma: Yusuke Kobayashi (Honoka Takamiya in Witch Craft Works)
Ayame Kajou: Shizuka Ishigami (Ellis Fahrengart in Bladedance of Elementalers)
Anna Nishikinomiya: Miyu Matsuki (Magical Sapphire in Fate/kaleid liner Prisma Illya)
Hyouka Fuwa: Saori Goto (Otoha Takanashi in Pretty Rhythm: Rainbow Live)
Otome Saotome: Satomi Arai (Kuroko Shirai in A Certain Magical Index/A Certain Scientific Railgun)
Main staff:
Director: Youhei Suzuki (The "Hentai" Prince and the Stony Cat.)
Series composition: Masahiro Yokotani (Free!, The Devil Is a Part-Timer!)
Character design: Masahiro Fujii (The Familiar of Zero, Hayate the combat butler)
Anime production: J.C.STAFF (A Certain Magical Index/A Certain Scientific Railgun)
TVアニメ「下ネタという概念が存在しない退屈な世界」公式アカウントです。2015年7月より放送開始予定!!定期的に下ネタを呟いていきますので、よろしくお願い致します!!

— 下ネタという概念が存在しない退屈な世界 (@shimoseka) February 18, 2015
Light novel 1st and 2nd volume covers
Source: TV anime official website
© Hirotaka Akagi, Shogakukan/SOX