Five voice actresses again perform the OP/ED songs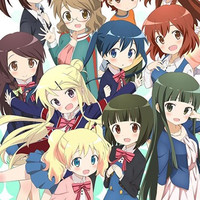 It is confirmed today that fiver-member voice actress unit Rhodanthe*'s 2nd single will be released in Japan on April 29. It contains "Yumeiro Parade," the OP song for Hello!! Kiniro Mosaic, the TV anime second season based on Yui Hara's four-panel comedy manga, along with its ED song "My Best Friends."
The unit was formed for the anime series by Asuka Nishi (plays Shinobu Omiya), Manami Tanaka (Alice Cartalet), Risa Taneda (Aya Komichi), Yumi Uchiyama (Yoko Inokuma), and Nao Touyama (Karen Kujo). Their 1st single released in July 2013 contained the OP song "Jumping!!" and ED song "Your Voice" for the 12-episode first season aired from July to September 2013. The highly-anticipated TV anime second season is slated for this April.
Key visual for Hello!! Kiniro Mosaic
Rhodanthe*
2nd PV featuring "Yumeiro Parade"
15-second CM
The main staff for the 2nd season :
Director: Tensho
Series Composition: Yuniko Ayana
Character Design: Kazuyuki Ueda
Anime Production: Studio Gokumi
The main voice cast:
Asuka Nishi as Shinobu Omiya
Manami Tanaka as Alice Cartelet
Nao Toyama as Karen Kujo
Risa Taneda as Aya Komichi
Yumi Uchiyama as Yoko Inokuma
1st season OP "Jumping!!" short PV
1st season ED "Your Voice" short PV
via: Akiba Souken
© FlyingDog, Inc.
© Victor Entertainment, Inc.