Directed by Mitsuyuki Ishibashi (PVs for ALI PROJECT, JAM Project)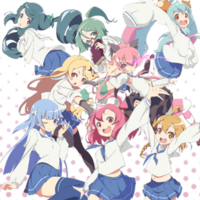 The official website for the upcoming original local TV anime Urawa no Usagi-chan launched today, announcing its director and premiere schedule on TV Saitama on April 9. The story features eight anthropomorphic girls representing the stations in Saitama Prefecture, which have "Urawa" with their names. The main voice actresses for them are all Saitama natives.
Mitsuyuki Ishibashi, who is well known for his PV works for ALI PROJECT, Yousei Teikoku and JAM Project, works on his first TV anime series as director.
The main voice cast:
Usagi Takasago: Asami Seto (Shoko Sashinami in Valvrave the Liberator)
Tokiwa Kamikizaki: Satomi Akesaka (Hina Sato in Tesagure! Bukatsu-mono)
Saiko Numakage: Rumi Ohkubo (Ako Sirabe/Cure Muse in Suite PreCure♪)
Kojika Bessho: Miyu Kubota (Sophie Hojo in Pri-Para)
Sakura Tajima: Yo Taichi (Beni Kinojo in Ai Tenchi Muyo!)
Midori Saido: Hisako Tojo (Albertina II in Himegoto)
Minami Oyaba: Keiko Watanabe (Momoko Suou in The [email protected] Million Live!)
Misono Mimuro: Nao Tamura (Minori in Log Horizon)
1st key visual
Kojika, Usagi, Tokiwa (back), Saiko (front)
2nd key visual
Minami, Midori, Sakura (back), Misono (front)
Mitsuyuki Ishibashi's original animation "ZONE-X" trailer
Source: "Urawa no Usagi-chan" official website
© harappa/TV Saitama, Urawa no Usagi-chan Production Committee