The 126-minute film earned 12 billion yen in the Japanese box office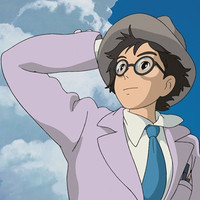 Hayao Miyazaki's 2013 anime film The Wind Rises, which is considered as his last feature film, was aired on Nihon TV's Friday Roadshow for the first time from 21:00 on February 20. Its average viewing rating was 19.5% (Kanto area, researched by Video Research), which was 10.3% lower than his previous film Ponyo (29.8%) aired in February 2010, and also 13.4% down from Howl's Moving Castle (32.9%) in July 2006.
But it is still a little better than Studio Ghibli's recent non-Miyazaki films, such as The Secret World of Arrietty (16.5%) and From Up On Poppy Hill (13.0%). Isao Takahata's latest film The Tale of the Princess Kaguya is scheduled to be aired in the same program on March 13.
TV ratings for the first TV bradcast of Studio Ghibli films and Nausicaä of the Valley of the Wind:
Nausicaä of the Valley of the Wind (April 6, 1985)...16.5%
Castle in the Sky (April 4, 1988)...12.2%
Grave of the Fireflies (August 11, 1989)...20.9%
My Neighbor Totoro (April 28, 1989)...21.4%
Kiki's Delivery Service (October 5, 1990)...24.4%
Only Yesterday (October 9, 1992)...18.3%
Porco Rosso (October 15, 1993)...20.9%
Pom Poko (October 5, 1995)...19.2%
Whisper of the Heart (October 11, 1996)...18.5%
Princess Mononoke (January 22, 1999)...35.1%
My Neighbors the Yamadas (October 13, 2000)...9.9%
Spirited Away (January 24, 2003)...46.9%
The Cat Returns (August 26, 2005)...17.5%
Howl's Moving Castle (July 21, 2006)...32.9%
Tales from Earthsea (July 11, 2008)...16.4%
Ponyo (Febraury 5, 2010)...29.8%
The Secret World of Arrietty (December 16, 2011)...16.5%
From Up on Poppy Hill (January 11, 2011)...13.0%
The Wind Rises (February 20, 2015)...19.5%
---
via: Mantan Web
© Nibariki/GNDHDDTK