"Girl Meets Girl!" produced by Elements Garden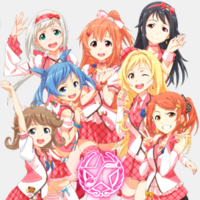 Kadokawa/Media Factory's light novel imprint MF Bunko J has posted a two-minute PV for their idol-themed project "Angel Festa!," featuring its newly-formed seven-member idol group FEALs' debut song "Girl Meets Girl!." The song is produced by popular music creator team Elements Garden who have worked on various anime/game titles and voice actresses' solo songs.
The story of the light novel series written by Yu Kaggami with illustrations by Tetsuya Kawakami focuses on the members of FEALs, who are the students in the idol training course at Seikadai Academy, in age of 11 to 17. Following the first volume in December 2014, the second volume is scheduled to be released tomorrow, February 25.
Voice cast for the the seven members of FEALs:
Minami Minase (13 year old)...Ayaka Imamura (Miyabi Hotaka in Absolute Duo)
Kanami Asaka (16)...Sayaka Senbongi (Claire Kokonoe in Chronicles of the Going Home Club)
Shiika Kudou (14)...Shizuka Ichinomiya (Hikari Ogura in Tsubu☆Dol)
Alice Narimori (17)...Kana Yuuki (Rinslet Laurenfrost in Bladedance of Elementalers)
Mai Hoshimiya (14)...Yuriya Hiranuma
Rinko Hayami (15)...Yuna Yoshino
Yuzu Mitsuki (11)...Yuuri Yoshida (Mashiro Mitsumine in Engaged to the Unidentified)
1st voume cover
2nd volume
via: "Angel Festa!" project official website
© Yu Kagami illustrations: Tetsuya Kawakami